You're wanting to sell your bracelet, but you're not exactly sure what the best place is? There are a few places to do so. You'll learn how to calculate the price before you decide where you should sell. This ensures you get the best price for all your gold bracelets.
Everything You Should Consider When Selling Your Bracelets To Make Money
Going to your local gold dealers is the easiest way to sell your gold bracelet. After you sell your gold, these buyers resell the gold to refineries, which melt down your gold bracelet. Other dealers are able to recycle the gold they purchase themselves.
A gold dealer will offer you a price that coordinates with the gold content. In general, gold dealers pay based on the metal alone. The design or antique value doesn't play a part in the price.
What Is Your Gold Bracelet Worth
Determining the gold content is the first step when finding out the price. If you know the karat, this is easy. To calculate the percentage, take the karat number of the jewelry, divide by 24 and x 100.
For example, if you have a 10-karat bracelet, its gold content is equal to 10 divided by 24 x 100 = 41.7%
Now that the percentage of the gold bracelet is pure gold has been established, you need to calculate how many grams or pennyweights of gold you have. Gold purchase prices are quoted based on weight.
Following our example of the 10-karat bracelet, if it weighs 12 grams and 41.7% of it is pure gold, then the calculation is as follows: 12 grams x 41.7% = 5.0 grams of pure gold.
Now, the only step left is to determine the price of gold per gram, and multiply the grams of pure gold by that price.
The spot market, for gold, changes daily. Our suggestion is to check the market the day you plan to sell. Another great tip is to check the daily quote from your local gold dealers.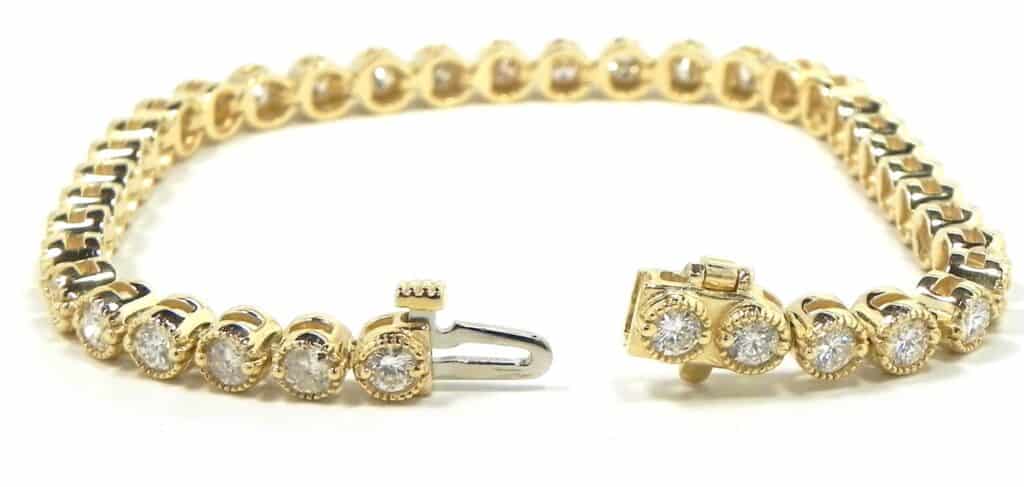 The Stones In Your Bracelet
If your bracelet contains gemstones, a gold dealer likely will not purchase them. Gold dealers mostly care about the metal. You might not be able to get any money from them if they're synthetic stones.
That's why it might be best to remove the stones before selling the jewelry for scrap. The Gold and Silver Exchange are able to remove these stones for free if you wish. However, if the stones can not be removed, they would need to be removed another way. Some buyers offer a price for the stones but this differs from one dealer to another.
Diamonds are easier to sell than other gemstones. A gold buyer might be able to buy those from you. It all depends on the business you go to. If they have a website, they may have this listed.
Selling Your Gold Anklet
Unlike a heavier bracelet, an anklet is usually more dainty. Anklets are made with very fine gold, therefore not as valuable as heavier pieces. They are worth adding to your appraisal and can offer a great addition to your payout.
Various Types Of Gold Bracelets
Gold bracelets can fit any personal style. Gold bangles and charm bracelets are just a few to name. Bangles are often good quality with a high metal content as well as very popular. They are, however, easily broken so why not liquidize them. On the other hand charms are collected to tell an individuals story and purchased at every new experience. Depending on where the charm was acquired, the gold content may very so be sure to have them assessed separately.
Where To Sell Your Gold Bracelet
There are a few options to look for when selling your used jewelry. In order to get the best price, it's recommended to shop around.
Your local exchange is the simplest way to get rid of old jewelry. It's arguably the best way to sell a gold bracelet. The Gold and Silver Exchange offers to remove your stones and return them back to you, and they purchase diamonds along with the gold. Unlike jewelry stores, they are willing to purchase any of your used jewelry. You are paid on the spot and there is no wait in order to get your money.
Jewelry Stores willing to purchase second-hand jewelry, are hard to find. They have little use for your jewelry since they sell for low prices (unless your piece is a rare antique). If you do find a jewelry store to purchase your gold bracelet, they are likely to recycle the gold in order to make a new piece. The price can be compared to some other gold dealers. Although, jewelry store policies differ with regard to purchasing old jewelry.
In any case, you are able to bring many of your bracelets. Making it easy to sell your bracelets.
Where is The Gold and Silver Exchange located?
We have 2 convenient locations. One is located right next to the Woodland Mall in Grand Rapids, MI. The other is next to the Secretary of State office in Greenville, MI.
What is an acid test?
In order to determine the karat of gold and if it is in fact gold, a chemical test is needed to be 100% certain.
What is the spot market?
A resource used to determine the price of gold. It is updated around the clock.
Testimonials
"When I sold my gold I shopped around the area for the best prices. I was so happy that I went in and got a quote and I was so pleased that they offered me over double of what the other companies in the area were offering."

Kalene B