If you have outgrown the trendy look of earrings, you would want to sell them. No matter the reason, you're looking for the best place to sell your earrings. Figuring out the worth of your gold earrings can be a guessing game. First, you need to know where to start. Let's get into a few tips to help you make your decision.
The Best Tips For Selling Gold Earrings
Most gold jewelry is manufactured in 10 karat, 14 karat, or 18 karat. This is important to evaluate any offer you may receive from a buyer. Pure gold is 24k. If your jewelry happens to be 18k, it contains 75% gold. (24k X 75%= 18k). Other metals are mixed in the gold to make it more durable and less expensive. Gold-filled, plated, and costume jewelry is common. Costume jewelry looks good initially. If the costume piece is old, it may start leaving green marks on the item or your body. Think of the earrings as dipped or sprayed in gold. Gold-filled items have a small amount of gold. Most are usually a base metal.
Your earrings can come in different shapes and styles. A popular type of earrings are diamond stud earrings or hoop earrings. The diamonds can add significant value to your set. They are often made with CZ's or moissanite. This has led them to be far more popular. Which appeals more to buyers. Cubic Zirconia is a synthetic gemstone that consists of zirconium dioxide. It is in the form of cubic crystalline. Lab-created making them virtually worthless.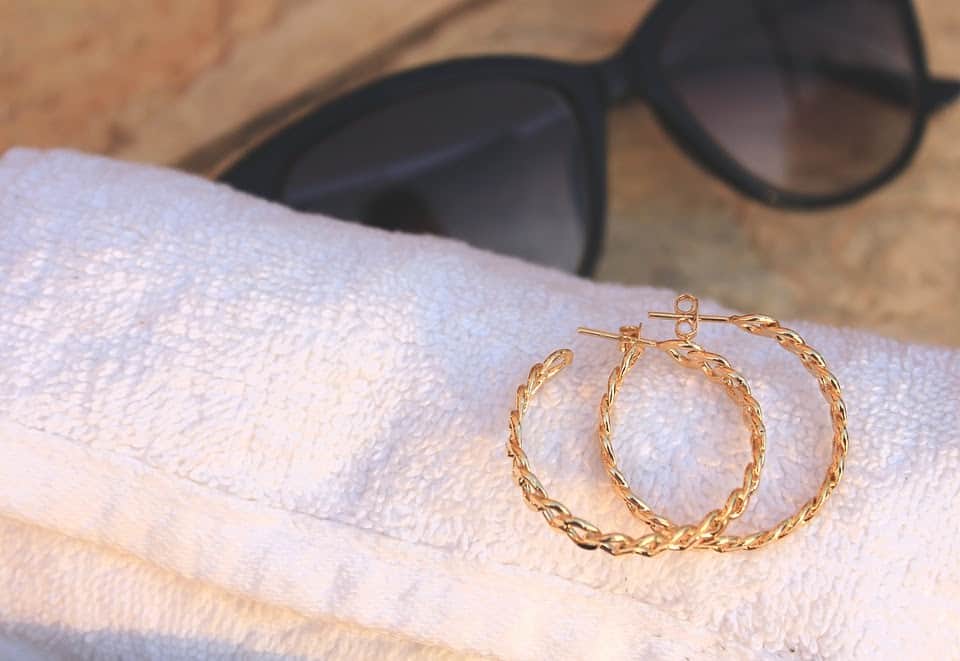 Best Place To Sell My Old Gold Earrings
Used jewelry can be repurposed, and there are a few places to sell them. The specific places would be your local exchange, a pawn shop, or online jewelry buyers. The Gold and Silver Exchange will offer you instant payment and give you updated prices based on the spot market. Which is the best place to sell earrings.
How Can You Tell What Type Of Earrings You Have?
The stamps located on the piece are usually in the same region. You can find the stamp or hallmarks on the earrings post, which is the part that goes into your skin. There should be marks on the earring backs as well. The back are what secures the earrings in place. Sadly, the marks can be wrong or stamped on non-gold jewelry. A simple trick to discern between real and non-gold items is to use a strong magnet. Real gold items will not stick to the magnet.
Different metals can alter the gold to look any color. Rose gold and white gold are two of the most common alterations. Rose gold gives regular yellow gold a pink tone to the jewelry.
Different Stamps And The Meaning
There are many types of stamps with different meanings or several stamps with one meaning. This should give you an idea of what they mean.
"GP" meaning "gold plated" or "RGP" which means "rolled gold plate".
"GEP" meaning "gold electroplated". "HGE" or "HGP" both mean heavy gold electroplate.
Gold-filled jewelry is stamped "GF".
A fraction can be in front of the "GF"
Gold earrings are stamped with the karat as well. "10K", "14K", "24K", etc.
Other Place To Sell Earrings
With current gold prices hovering around all-time highs. Prices vary depending on the dealer. There are many dealer options available to the consumer. First you can select local dealers who are located close by. Pawn shops are always nearby. A final option for the consumer are gold buyers online. The advantage is, the transaction can be conducted without leaving the comfort of your own home. The disadvantage to dealing with online buyers is the consumer does not know in advance what they will be paid. Most will be pleasantly surprised at the value gold jewelry brings. It is very important to do your research.
What kind of magnet can be used?
The magnet should be relatively strong. Stronger than a traditional fridge magnet.
Can costume jewelry be brought in?
Often times costume jewelry can replicate real gold or silver jewelry. They can look like costume but be real.
Is the testing process free?
A professional will assess your piece for free. The only thing that isn't free is the gas you use to stop in.
"Great friendly store! Very informative on jewelry and fair quote. Woodland."

Raquel Miller