Whether it was the gold given to you by your great-grandfather, damaged, or dated. The gold pieces you own can hold a significant value to you. When you're ready to part with them, there's a few things you should know before selling. The following are tips for making your experience a little easier. Do your research before you get in your car to go sell your stuff. Who knows after reading this article, you may be on your way to becoming an expert. Learn how to sell your gold necklace for cash.
How To Get The Best Price For Your Gold Necklace
There are a few different options to go when deciding where to sell your gold necklace. There are online gold buyers that give you the privacy of your own home. You are able to sell your gold from any place. These types of buyers don't resell the item. Due to this they are able to pay a little more. You ship your item to them, and they examine the piece and then give you an offer.
Another option is to go the traditional route with pawn shops or local exchanges. Local in-person shops offer a different type of guest friendliness that you won't get with online buyers. Unlike online buyers they do receive a portion of the value that goes towards reselling the item. You are able to know the value and offer instantly. You won't have to wait weeks for shipping. The Gold and Silver Exchange offers top competitive prices to get you the most out of your gold. It's the best place to sell your gold necklace for cash.
What Is My Gold Jewelry Worth?
When your jewelry is getting surveyed a few factors determine the payout for your piece. Weight and karat, how much gold is in the jewelry, are the only two things that matter depending on where you go. Some common karats of gold necklaces are 10k (41.7%), 14k (58.3%), 18k (75.0%), and 24k (99.9%) just to name a few. There are more karat amounts in between but 24k is the highest percentage of gold and most valuable. There are some drawbacks when getting the higher karat due to the fact that gold is a soft material. Jewelry can become scratched and damaged which, in some cases, can devalue that item. Usually the jewelry will be melted down to make new. The Gold and Silver Exchange will not base the item on its condition.
The type of gold necklace you own can also play a part in the value. Gold necklaces or chains come in a variety of styles. Some are more popular and when reselling the piece they could be worth more than just the gold amount. Diamonds can be very popular in chains to up the value like engagement rings. A few styles and their description are:
Herringbone- Flat with alternating links making a half zig-zag.
Rope- Two strands that look like they're twisting together.
Cuban/Curb- Oval shaped links that twist and lie flat. This style is pretty popular for men to wear.
Bead- Round balls linked by a short wire that make up the chain.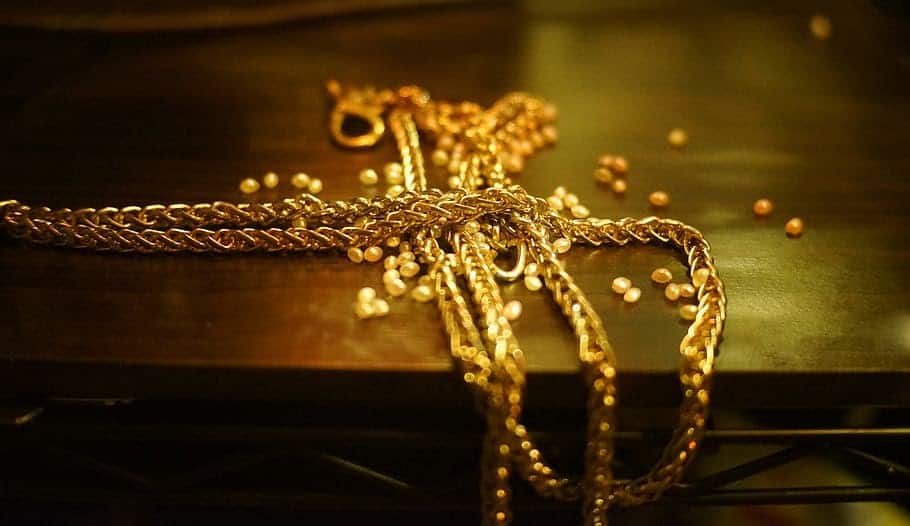 Where To Sell Your Gold Necklace
It can be a tough decision to make when figuring out where to go with your unwanted jewelry, so here are a few reasons why The Gold and Silver Exchange is your top choice:
There Is Zero Commitment. If you don't accept the offer, which we're confident you will, you can get your items back instantly which means there is no waiting from shipping.
Informed Through Every Step. You will find out right then and there what type of gold you have with testing shown right before your eyes. There is nothing to hide.
No Limitations On Your Jewelry. The condition of your piece plays no part when deciding the value. It doesn't matter if it is broken or damaged in any way.
Sold with Confidence. Every item is tested and given up to date prices based on the current spot market. You will always get the best price for the value of your items.
If you're wondering where you can sell your gold necklace for cash, look no further! Head into The Gold and Silver Exchange.
Can I sell my broken necklace?
Yes. If your necklace is gold, it will be worth the amount of gold.
What does a real gold necklace look like?
Gold necklaces can be plated and they look brighter than normal gold. Although gold is not dull. It is naturally bright. It will have a stamp indicating the type of gold. This stamp is located by the clasp.
Is a gold-filled necklace worth anything?
Gold-filled jewelry is usually worth about as much as silver jewelry. The majority of the jewelry is silver with a small bit of gold.
What is the gold spot market?
The gold spot market is updated price of pure gold per ounce.
"It was quick and easy to take all of my unwanted, unworn, old jewelry in and walk out w/ over $500. They pay top dollar for gold which is awesome."

DAWN STEFFES