Costume jewelry comes from various countries in many styles. The value of each piece can vary. For example some costume pieces can be a few dollars or a few hundred. It all depends on the quality, quantity, and the designer. If you're figuring out where to sell used costume jewelry or where to find antique costume jewelry buyers, continue reading.
Selling Your Costume Jewelry For Cash
There are a number of signs that can give you insight to the history of your jewelry. Some pieces are worth more than others based. The valuable costume jewelry have hallmarks that include Tiffany & Co, Cartier, and Tacori. These hallmarks should get an appraisal for genuineness. More common jewelry hallmarks for costume jewelry are Sarah Coventry, AVON, and Trifari.
One of the most valuable costume jewelry can sell for more than $3,000. Miriam Haskell vintage jewelry is the most collectible costume jewelry today. Even her average pieces sell for more than the average costume piece with the same level of vintage.
In order to tell if you have a valuable piece, look at the details. The hallmarks, weight, and prongs will give you an insight to the historical era when created. The condition plays a huge part if you're looking at rare costume jewelry.
Where To Sell Used Costume Jewelry
Pawn shops usually purchase your old costume jewelry. It doesn't pay out as much unless it's a designer piece. If your costume pieces contain gold, silver, or diamonds then you're looking at a hefty sum of cash. Pawn shops are searching for good quality jewelry to resell.
Consider donating your unwanted costume jewelry. If it's not made out of a precious metal or not considered collectible, it probably isn't worth much money. Places such as Goodwill, or the Salvation Army accept jewelry donations. Associations like Dress for Success and Suited for Change also accept fine jewelry if you're looking to unload.
There are a ton of options to look for when getting rid of your costume jewelry.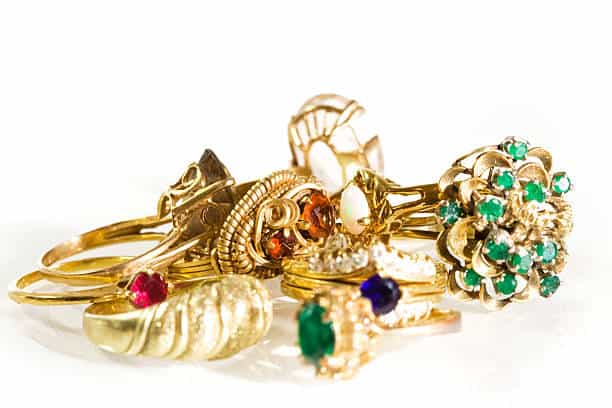 Antique Costume Jewelry Buyers
Not all costume jewelry is extremely valuable. There are certain designers that will be worth more than the vintage price and of course the material matters. Gold, silver, and diamonds are extremely valuable in vintage jewelry. Let's dig into some antique costume jewelry buyers.
The web is a great place to sell used costume jewelry. Online buyers are looking for the perfect piece to add to their collection.
Pawn shops are on the hunt for quality pieces. A quick way to make some money from your unwanted jewelry.
Where Can I Sell Old Costume Jewelry
The Gold and Silver Exchange is always accepting costume jewelry. We will gladly take a peak at your antique jewelry. The treasures you find at a yard sale can make you a profit. Even if you're searching where to sell your great-grandmothers used costume jewelry. Or just looking for antique costume jewelry buyers. You will never be pressured to sell your costume jewelry.
Videos
Is costume jewelry valuable?
Some pieces are valuable. Research is crucial in order to know for sure or a professional appraisal.
What is a hallmark?
A hallmark is an official stamp found of precious metals that indicate the type of metal and its purity.
What is the difference between antique and vintage?
Antique items are at least 100 years old while vintage pieces are less old, about 40 years old.
Testimonials
"I worked with this office today and the Greenville store had great customer service, took time to explain things to me!! Thank you for your help today"

Billy Jo Christensen