If you have decided to go ahead with selling your wedding ring, there are a few things you should know beforehand. One of the first things you should consider is the factors that determine the value of your ring. You also need to be aware of the potential buyers that will pay the most amount of money. Ask yourself who buys wedding rings, and how to sell your wedding ring after divorce.
What Do You Do With Your Old Wedding Ring
There several things to consider when deciding to sell your wedding ring. There are also many options on what to do with your old wedding ring. Ask yourself what the purpose is to sell your ring. These reasons could be a break-up, financial need, or looking to upgrade. Whatever the case may be, you should be 100% certain that you don't want your ring anymore.
The first thing you should look into is an appraisal. This is done through a certified appraiser that doubles as an expert in gemology. The document you receive afterwards will show you the market value of your ring, theoretically. It's important to note that the number is likely much higher than the price it would be if it's considered second-hand jewelry or gold scrap.
The appraisal value is just theoretical so, you probably won't be able to sell it for that price. Fortunately, it offers room for negotiation when selling to a jeweler.
After getting an appraisal, it helps if you want to sell your ring as a complete piece. If you're selling to a gold dealer, the appraisal wouldn't be very useful.
How To Sell Your Wedding Ring After Divorce
Before diving into how to sell your wedding ring after divorce, let's find out how much it's worth. The value of your ring as a whole is based on the metal it's made of and the stones set in the piece. The value of the ring can be more than the just the value of materials. The work and value of the design can increase the value of the complete piece of jewelry.
This is mostly true when the jewelry is new, second-hand jewelry sells for much less. The value of your ring as used jewelry is closer to the resell value of the materials. This is very helpful to know when trying to sell your ring.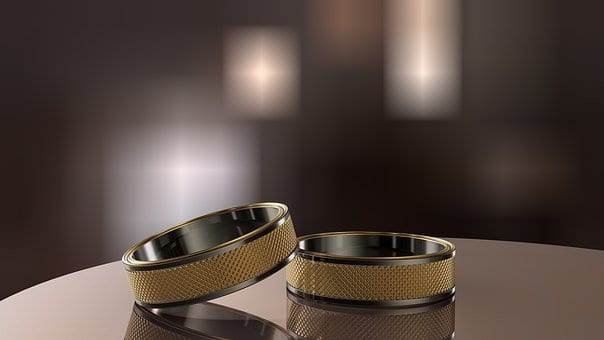 Who Buys Old Wedding Rings?
For those of you wondering, 'who buys wedding rings?', there are a few options to consider when selling your ring. There are options to fit every scenario.
Say you just went through a break up and the ring holds far too may memories to keep any longer. A pawn shop would be your best bet. They will take your ring and pay out immediately. This option is fast and easy.
If you're looking for another option, check out an online buyer. You never have to leave the comfort of your home. The process does take longer so if you're a homebody or can spare a few weeks for shipping, this is the option for you.
A jewelry store is probably not the best option to sell your old wedding ring. A store willing to purchase used jewelry is hard to come by. If you bought the ring from them, they will offer a discount on an upgrade but rarely purchase the ring from you.
Best Way To Sell Your Wedding Ring
The best way to sell you old wedding ring is The Gold and Silver Exchange. They offer immediate payment or you can send in your items by mail to get paid without ever leaving your home. You are never pressured to sell your items and you have the option to see the testing done firsthand. You'll feel comfortable knowing that your items are handled by professionals that care about your jewelry as much as you.
What is the difference between a wedding ring and engagement ring?
An engagement ring is given before the wedding and during the proposal. A wedding ring is exchanged during the ceremony.
Is my wedding ring worth more if it has diamonds?
Depending on the the diamonds. The value of your wedding ring could be worth a lot more.
Can I test my wedding ring at home?
There are kits to test your gold at home. However, in order to sell your gold the store will have to test it again to determine the karat of gold.
Testimonials
"Fast and friendly/professional service."

ELVISA GANIC